What do Jane Goodall, Steve Erwin, and Jeff Corwin all have in common? Their passion for wildlife! Every great naturalist has to get their start somewhere. More often than not, the seed is planted by observing animals in nature and in zoos at a young age. While a family visit or school field trip to the WNC Nature Center can be impactful for a young person, there are several programs offered by our Education Department tailored to youth that instill a deep appreciation for nature and nurture their love for animals.
If you've ever visited the WNC Nature Center on a summer day, you may have seen a teen volunteer stationed around the park providing hands-on, engaging education to guests. These dedicated individuals are a part of the Young Naturalist program at the WNC Nature Center. The program was created in 2001, and over the past two decades, local teens have been able to explore potential careers in the animal field and get more involved in their community as a whole. 
This past summer, 57 teens were involved in the program. These volunteers served over 1,000 hours in two months! They engaged Nature Center guests with Nature Play, Animal Olympics, and docent stations. They also had access to virtual professional development including resume building, community science, art in nature, and developing public speaking skills. Young Naturalists completed two major service projects including cleaning up the Swannanoa River with RiverLink and giving the red panda habitat a makeover.
The Young Naturalist program has made many impacts in our community and on impressionable young adults. The program won the Association of Zoos and Aquariums award in 2021 for education because of its long-term success. And some program participants have even moved on to have impactful careers working with animals or in the environmental field. Kelsi Rutledge, a Young Naturalist alumni, has recently gained media attention. Rutledge discovered a new species of ray and has done unprecedented research about how rays smell. She attributes the Young Naturalist program to helping foster her love for animals.  
The WNC Nature Center also offers award-winning summer camps. First through fourth graders are invited to the Nature Center to discover the plants and animals that live on and around the Nature Center grounds. Kids get to experience animal encounters, play outdoor games, make animal themed crafts, and even do some science! Just like our Young Naturalists, many young adults have found inspiration from their childhood experiences at the Nature Center summer camps. R. Graham Reynolds, a summer camp alumni, is now a professor at UNC-Asheville. He's recently discovered four new snake species!  Reynolds says his earliest memories of discovering his love of reptiles started in elementary school at the WNC Nature Center where he attended summer camps.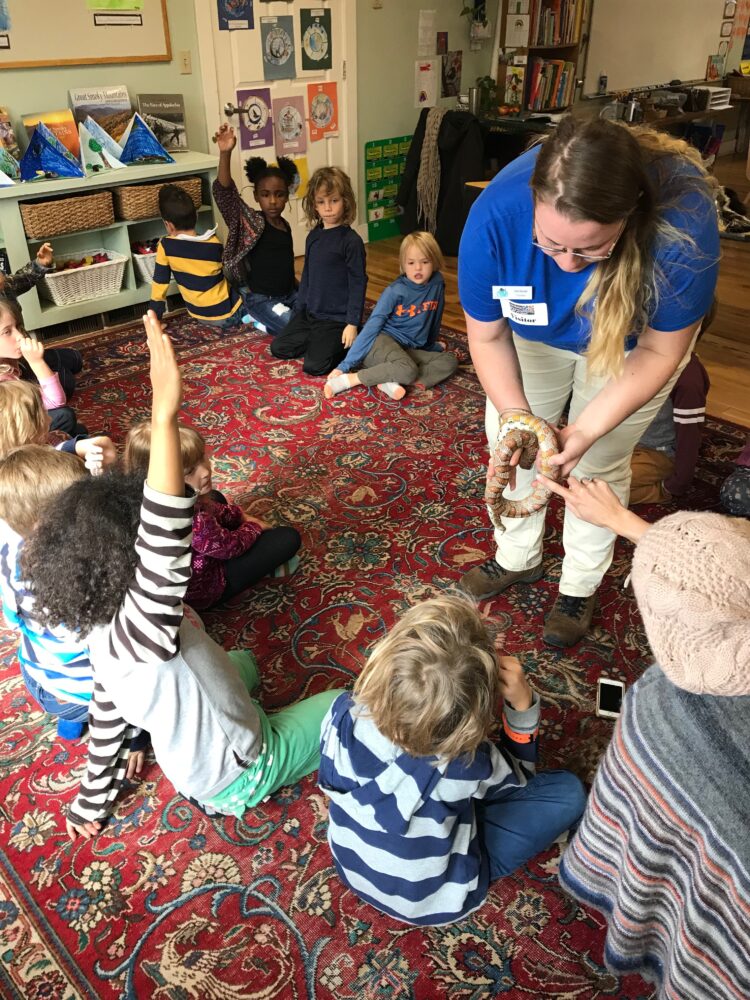 It's exciting to see that the Nature Center continues to serve its mission of fostering an appreciation for native wildlife. The Friends of the WNC Nature Center also supports the Nature Center's mission by providing an outreach program to Buncombe County and surrounding counties. Outreach Educator Tori Duval brings the Nature Center to people who can't otherwise come to the Nature Center, usually because of physical or financial restrictions. Every year, Tori reaches more than 10,000 kids, teens, and senior citizens in underserved communities all over Western North Carolina and as far as New Jersey with virtual programs! The Outreach Education program was also nationally recognized through The Association of Zoos and Aquariums in 2018 for significant achievement in "Expanding Impact through Targeted Low Income Outreach Education." Through this program, the WNC Nature Center is able to inspire youth that otherwise wouldn't have the chance to learn about wildlife through a visit or education program at the Nature Center or in their own backyards.  
The WNC Nature Center is proud and excited to be part of building up the next generation of conservationists, environmentalists, scientists, and biologists. Check out wildwnc.org to learn more about the education programs we offer to our community. And who knows? Maybe the WNC Nature Center's next Young Naturalist or Summer Camper will become the next Jane Goodall!