Elaphe gutata gutata
Appearance: Corn snakes are long, slender, and brightly colored. Corn snake coloration is highly variable and can be affected by the snakes' age, the region in which they live, and if it was bred for the pet trade. Also known as red rat snakes, their colors can range from reds, grays, oranges, blacks, and yellows. The name "corn snake" can be attributed to the scale pattern on their belly, which resembles flint corn, and their tendency to frequent corn cribs to eat visiting mice.
Range: Corn snakes live in the southeast and as far north as New Jersey and as far west as eastern New Mexico and Colorado, usually in wooded or rocky areas, meadows, along waterways, wood lots, barnyards, and abandoned houses. Corn snakes are most active at night, but it is possible to see them in the early evening. During the day they can usually be found hiding in leaf litter or under rocks or logs.
Diet: Corn snakes use their ability to climb trees and rafters in search of prey, including mice, rats, birds, bats, and bird eggs. Like other rat snakes, corn snakes are non-venomous and can subdue their prey by constriction.
Ginger
Date of Birth: July 2009
Ginger was donated to the WNC Nature Center in July 2013 by a family who kept her as a pet. Ginger grew up in the pet trade and has never known life in the wild. Her pattern has beautiful red undertones.
Kettle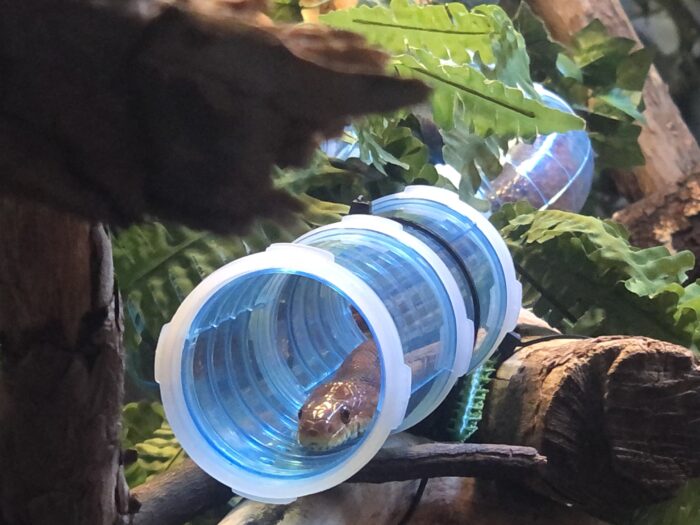 Date of Birth: September 2012
Kettle and his brother Caramel were both born at the WNC Nature Center. Kettle enjoys using tunnels for enrichment.
Caramel
Date of Birth: September 2012
Carmel and his brother Kettle were both born at the WNC Nature Center. Caramel is a very docile snake and quite the artist! Using non-toxic paint, his keepers help him paint a canvas with his body. Sometimes this artwork is available for sale at the Nature Center Gift Shop!