Canis latrans
Appearance: Coyotes are smaller than gray wolves but larger than foxes. Their fur ranges in color from reddish to brown and yellowish to gray. They have prominent ears, rust-colored legs, and a bushy tail with a black tip. Adults are generally three to four feet in length and weigh 20 to 40 pounds. They are often heard more than they are seen. Their high-pitched howls and barks are used to communicate their position, confirm hunting success, or to reinforce social bonds.
Range: Coyotes thrive in areas with a diversity of habitats including brushy country, ravines, thickets, and small woodlots. They are most active at night and can live alone, in pairs, or in loosely knit packs of non-breeding animals. Their only serious predator is humans, who hunt them with dogs and guns; however, they have been able to maintain their population numbers due to their high adaptability.
Diet: Most humans are fearful of predatory animals. Part of the stigma against coyotes is their occasional feeding on domestic poultry and livestock.  However, about three-fourths of their diet consists of rodents, rabbits, opossums, raccoons, and squirrels. They will also eat insects, fruits, berries, seeds, grasses, and dead animal matter.
Cal & Walker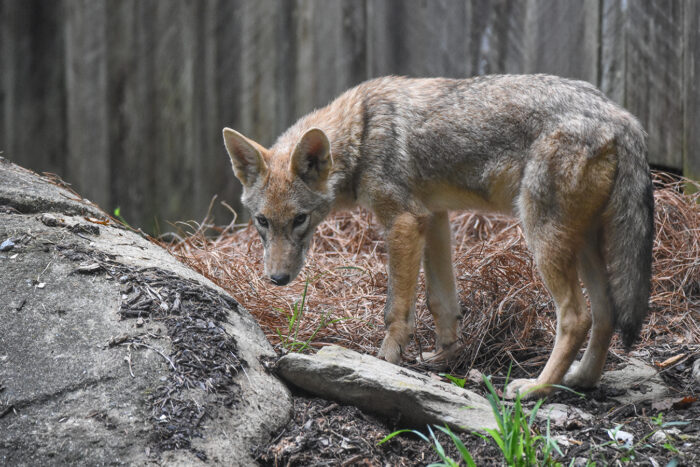 Date of Birth: April 2023
Both Cal and Walker came to the WNC Nature Center in July 2023 from Izzy's Pond Sanctuary in South Carolina. While they are not biological brothers, they were introduced to each other at a young age, so they have bonded as companions.